You being here means you care about what your children watch, listen and read. So do we! 
We are not just a company. Firstly, we are moms and dads. Every time we start working on a new app,  we ask ourselves : "Will my own child like it?", "Will he/she benefit from it?". For us, every app is very personal.
Our team consists of talented professional artists, graphic designers, illustrators and developers who dedicate their time to create artistically beautiful, educationally valuable experiences appropriate for young children.
Every brilliant idea is simple. Children love our apps because we love children.
Our friends
App Album

News, reviews...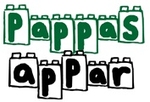 Рappasappar.se
Life VS Videogames
Apps for kids