Brave Hedgehogs
Simple board game for kids age 3+ learning to count.
Play 2 or 3. Brave hedgehogs are getting ready for a dangerous journey. They need to cross a bewitched pond to get to juicy fruits. On the way they face scary ghosts, broken bridges and sinking islands.
Help the hedgehogs to overcome the danger and get to the fruits.
Each player spins the wheel and moves the hedgehog on to the island according to the spin. If island sinks, the hedgehog swims to the shore. Ghosts scare the hedgehogs and force them to miss a turn; only magic glasses help against the ghosts. If you are lucky, you find a turbo-engine that brings the hedgehog across the pond to the opposite shore. If you get two choices of move, watch out for sinking islands and pick a better number.
Each hedgehog can carry only one fruit at a time and three trips to the garden are required to fill the basket. The first player to pick up all the favorite fruits and returns to the full basket wins.
Skills practiced:
            Numbers and counting;
            Simple logic.
Features:
            Adorable characters;
            Fun animations and sound effects;
            In game instructions.
Screens: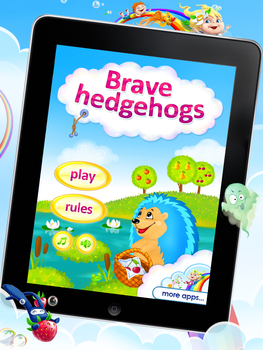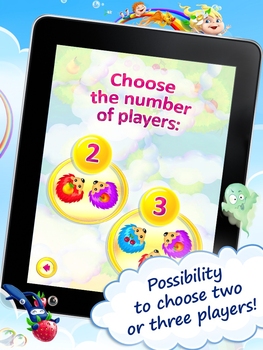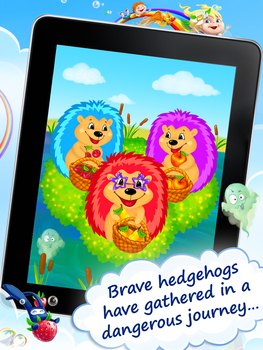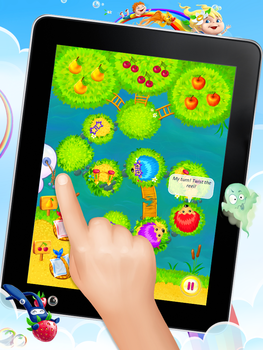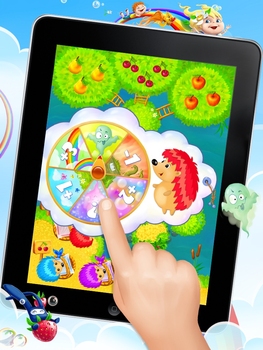 Video: